Whitewashing a Communist Camp
Editor

December 19, 2021 at 1:23 pm

The New York Times has a strange, repeated "odd tendency to euphemize or dance around communism." The latest example comes in a super-long and pretty boring profile of a 97-year-old World War II veteran. The Times claims the person is known as "the king of the artificial Christmas Tree." The Times writes, "in midsummer of 1949, he went to Camp Unity, a leftist camp in Wingdale, N.Y."

Continue Reading
A column in the Sunday business section by Jeff Sommer, who "also edits business news" and previously was a national editor at the Times, reports:
Vanguard, for instance, projects that the U.S. stock market will produce annualized returns of only 2.4 to 4.4 percent for the next decade, in no small part because prices are so high.

Other world stock markets haven't risen as much lately, and, partly for that reason, Vanguard expects that they will outpace the U.S. market by almost three percentage points, annualized, in the decade ahead. That's a reminder that a truly diversified stock portfolio is a multinational one, containing shares from all major public stock markets (including those in China).

Continue Reading
The New York Times focuses on the surge in homicides, publishing a front-page news article that jumps to two full pages inside. The Times highlights what it calls "a surge in homicides that has swept across the country," reporting that "in many large cities — including Atlanta, Chicago and Philadelphia — the number of homicides this year is on track to surpass last year." The Times just can't figure out what might be behind this: "In dozens of interviews, criminologists, city and state officials and people close to murder victims could not name a single, direct cause of the spike in homicides, and said that it could take years of data collection before the phenomenon is fully understood." Still, it could be "the continued destabilizing effects of the coronavirus pandemic."
Somewhat remarkably, the Times manages to cover this phenomenon without any mention of the Black Lives Matter protests against police. Some police and conservative politicians have linked the rise in crime to those protests.

Continue Reading

Times Publishes Chinese Propaganda

August 24, 2021 at 9:36 pm

"In Afghanistan, China Is Ready To Step Into the Void" is the headline over a New York Times op-ed by Zhou Bo. The Times identifies him at the top of the article by saying "Mr. Zhou was a senior colonel in the People's Liberation Army from 2003 to 2020 and is an expert on the Chinese Army's strategic thinking on international security." At the bottom of the article, there's a longer identification: "Zhou Bo is a senior fellow at the Center for International Security and Strategy at Tsinghua University and a member of the China Forum. He was a senior colonel in the People's Liberation Army from 2003 to 2020 and is an expert on the Chinese army's strategic thinking on international security. He directed the Centre for Security Cooperation in the Office for International Military Cooperation at the Ministry of National Defense."

Continue Reading

"Art" of Burned American Flags

August 22, 2021 at 7:19 am

An article in this morning's T magazine profiles an artist named "Puppies Puppies," who "also goes by Jade Kuriki-Olivo."

The Times reports, "At its most political, Kuriki-Olivo's work is also at its most literal, and tends not to equivocate. In her most recent show at New York's Queer Thoughts, 'Executive Order 9066 (Soul Consoling Tower),' about the World War II internment of nearly 120,000 Japanese Americans and Japanese immigrants, for instance, the artist showcased an urn filled with the ashes of burned American flags."

Also: "She can get by 'only so far' on her art, she said, and also does in-person sex work."

I guess it says something good about the market economy that someone can't make a living from art that consists of "the ashes of burned American flags." What it says that this same Times magazine is full of ads for luxury products is another story. Anyway, this is one where it's hard to tell whether the "conceptual art" is that of Puppies Puppies or the Times editors publishing the stuff.

Stalinism or "Social Justice"?

August 15, 2021 at 11:51 am

From the New York Times obituary of Leon Litwack, who was a longtime professor of history at the University of California, Berkeley:
He took his commitment to social justice with him to Berkeley, where he campaigned for Henry Wallace, the 1948 Progressive candidate for president, and protested the state's requirement that public employees, including university faculty, sign an oath of loyalty to the United States.

During the summers, while his better-off classmates went on vacation, he worked as a mess boy on freighters shipping out of San Francisco Bay, becoming active in the Marine Cooks and Stewards Union, one of the country's more left-wing labor organizations.

Continue Reading

Art Review Likens Cars to "Lethal Poisons"

August 14, 2021 at 9:27 pm

A New York Times art review of a show of automobiles at the Museum of Modern Art faults the museum for lending its reputational gloss to Volkswagen.

The review says:
In a wall panel the curators mention the Beetle's "inglorious origins," though there is more recent VW unpleasantness this show and catalog do not discuss. Over the last decade, MoMA has enjoyed more than a million dollars in support each year from Volkswagen — a company that admitted to equipping 11 million cars with illegal software to cheat emissions testing, and then lying to investigators about the scheme. Researchers at West Virginia University found some cars equipped with the software belched almost 40 times the permitted levels of nitrogen oxides. In early 2017, Volkswagen pleaded guilty in the United States to criminal charges that included conspiracy to defraud the government, violations of the Clean Air Act and obstruction of justice. VW paid $20 billion to resolve civil and criminal charges related to the scandal, and that figure has grown since then.

Continue Reading

Krugman Calls Covid "Red-State Crisis," Ignoring Provincetown, San Francisco

July 31, 2021 at 9:38 pm

"How Covid Became a Red State Crisis," was the headline over Paul Krugman's column in Friday's New York Times. "It's crucial to understand that we aren't facing a national crisis; we're facing a red-state crisis, with nakedly political roots," Krugman wrote.

Saturday's New York Times front-page news article provided a reality check with a report that "the C.D.C. described an outbreak in Provincetown, Mass., this month that quickly mushroomed to 470 cases in Massachusetts alone, as of Thursday.": "The outbreak in Provincetown, Mass., this month sprouted after more than 60,000 revelers celebrated the Fourth of July gathering in densely packed bars, restaurants, guesthouses and rental homes, often indoors. On July 3, there were no cases in the town and surrounding county. By July 10, officials noted an uptick, and by July 17, there were 177 cases per 100,000 people. The outbreak has since spread to nearly 900 people across the country."

Continue Reading

Ochs-Sulzbergers Campaign Against Nepotism

June 30, 2021 at 6:54 am

The lead, front-page news article in today's New York Times reports on problems counting mayoral votes at New York City's board of elections. "For the Board of Elections, which has long been plagued by dysfunction and nepotism, this was its first try at implementing ranked-choice voting on a citywide scale," the story reports.

The nepotism reference is unexplained for print readers, but for online readers there is a hyperlink to an article from October 2020, "Inside Decades of Nepotism and Bungling at the N.Y.C. Elections Board." It reports:

Continue Reading
The second page of the business section of the Sunday New York Times carries conflicting reports about the 30-year fixed mortgage rate. At the top of the page, the Times reports "Mortgage rates are up. Bankrate.com 30-year fixed, 3.29%, +0.41 points."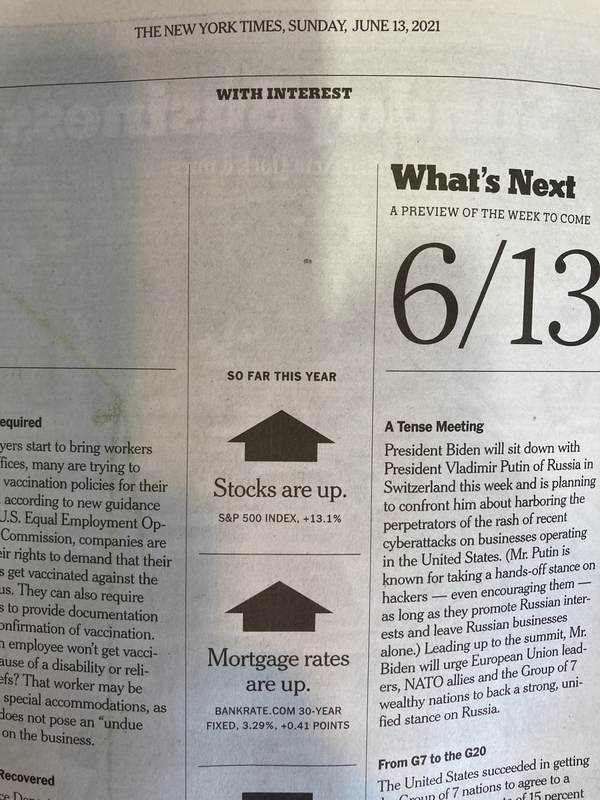 At the bottom of the page, under headings "consumer rates" and "borrowing rate 30-year-fixed mortgages," the Times publishes a chart with a declining rate showing "last week 2.4%."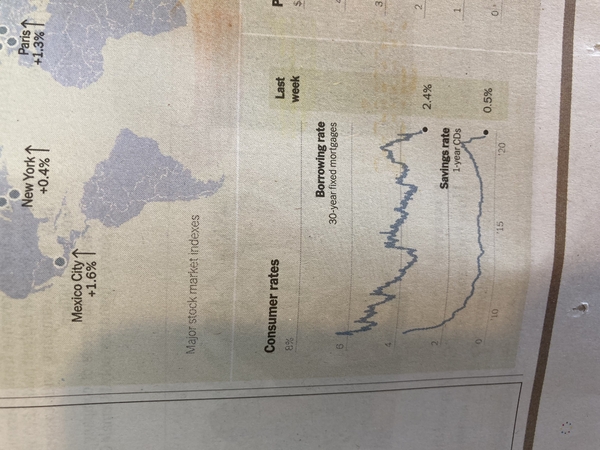 What's the 30-year fixed mortgage rate? 3.29%? Or 2.4%? Sometimes there may be different rates depending on whether it is a conforming or jumbo mortgage, or whether one pays "points" initially to buy down the rate. But absent any such explanation for the variation, it's confusing, or at least not helpful, to readers for the Times to report two different rates on the same page.

Continue Reading
This sentence appears on the front page of this morning's New York Times: "Mr. Rivas, 37, a construction worker, and his girlfriend were riding a train home from Lower Manhattan last month when he said a man screamed at them for no reason."
What happened on the train last month? Mr. Rivas said something? Or a man screamed at him? I think the Times is attempting to communicate that the screaming happened last month, not the saying. If so, it'd be better written: "Mr. Rivas, 37, a construction worker, said he and his girlfriend were riding a train home from Lower Manhattan last month when a man screamed at them for no reason." As is, the phrase "last month" is dropped into the sentence closer to "said" than it is to either "riding" or "screamed," making it sound like the interview with the Times happened last month.

Continue Reading
A New York Times obituary of the Nobel laureate economist Robert Mundell reports:
His ideas were promoted with evangelical fervor in the 1970s particularly by two economists: Arthur Laffer, who became known for the "Laffer curve," postulating that lower tax rates would generate higher government revenues, and Jude Wanniski, an editorial writer for The Wall Street Journal, whose opinion pages took up Professor Mundell's cause after a series of lunches and dinners at the Midtown Manhattan restaurant Michael's, which were later described by Robert Bartley, The Journal's opinion editor, in his book "The Seven Fat Years" (1992).

Continue Reading
In general I am a fan of Jane Brody's health column. Today's has an inaccuracy about the U.S. Department of Agriculture. She writes:
Of course, in recent decades many of the policies of the department Mr. Vilsack now heads have contributed mightily to Americans' access to inexpensive foods that flesh out their bones with unwholesome calories and undermine their health. Two telling examples: The government subsidizes the production of both soybeans and corn, most of which is used to feed livestock.

Not only does livestock production make a major contribution to global warming, much of its output ends up as inexpensive, often highly processed fast foods that can prompt people to overeat and raise their risk of developing heart disease, diabetes, high blood pressure and kidney disease. But there are no subsidies for the kinds of fruits and vegetables that can counter the disorders that render people more vulnerable to the coronavirus.

Continue Reading
From the "Corner Office" interview in the Sunday Business section with the senior partner of PwC, Tim Ryan, described by the Times as "a white, male, Irish-Catholic millionaire.":
What was your childhood like?

I grew up in Boston, and then I moved right over the city line into a town called Denham. I was very, very, very middle-class, lower middle-class. We didn't have much at all. My dad worked three jobs. He worked at Boston Edison and The Boston Herald. When one of those two were on strike, which was all the time, he would work as a garbage man. My mother worked at a supermarket. And we were taught to work hard. We all got jobs at 14, and I remember lying about my age so I could get a job at the supermarket. I have no childhood memory of doing homework.

Continue Reading
A New York Times article about Cornel West seeking tenure at Harvard includes this paragraph:
By the time Dr. West returned to Harvard in 2017, Mr. Summers was long gone. Harvard's current president, Mr. Bacow, "actually has some decency," Dr. West allowed.
It's odd for the Times to refer to "Dr." West but "Mr. Summers" and "Mr. Bacow," since Bacow, Summers and West all have Ph.D. degrees, and none of them is a medical doctor. Also, it's not accurate that Summers was "long gone" from Harvard. Summers is the Charles W. Eliot University Professor, and the Times itself reported as recently as 2020 that Summers had a voice in economics faculty hiring decisions.
Subscribe to the Mailing List